| | | |
| --- | --- | --- |
| The internet research hub for Victor Hugo enthusiasts | | |
---
Excerpts from two May, 2003 Playbill articles
Au Revoir: Final Les Miz Playbill Celebrates May 18 Milestone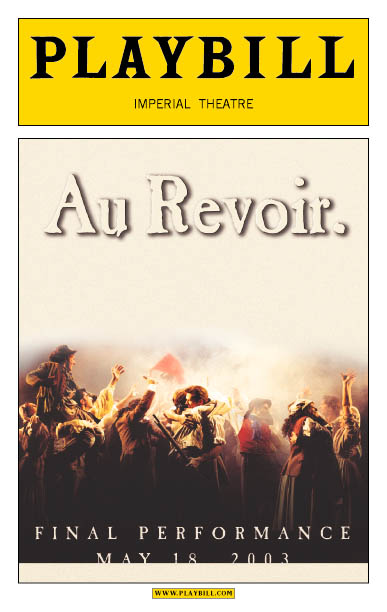 By Kenneth Jones
14 May 2003
Playgoers at the final performance of Broadway's Les MisÈrables May 18 will not see the beleaguered young Cosette on the cover of Playbill as usual, but an expressionistic image of the young and restless dreamers of the show.
The special onetime-only edition Playbill cover shows an image from the end of Act One ã in which the hopeful revolutionaries embrace and agree to fight the forces oppressing them. The words "Au Revoir" linger above the crowd.
The cover was designed by Serino Coyne and the "au revoir" is fitting: Producer Cameron Mackintosh has said Les Miz will always be around in some form, whether tour, concert or student versions, and that "au revoir" doesn't really mean goodbye.
The cover also indicates "Final Performance, May 18, 2003."

No Day More: Les Miz Ends Its 16-Year Broadway Run May 18
By Kenneth Jones
18 May 2003
At the end of the day May 18, there will be no more Les MisÈrables on Broadway.
After 16 years and 6,680 performances, the French written, British-refined pop musical version of Victor Hugo's 1832 novel of human rights and human love shuts down after the 6 PM milestone performance at the Imperial Theatre. The show leaves with much fanfare: An audience filled with special guests invited by producer Cameron Mackintosh, a performance of the three-hour show and then a special mega-finale that includes its current troupe, 300 alumni of the Broadway run and 40 New York area kids who have appeared in the newly minted "school edition" of the show in recent months.
In all, 415 performers have appeared in the Broadway run, whether at the Broadway Theatre (where it opened to an then-record $11 million advance in 1987 after a tryout at the Kennedy Center) or at the current Imperial (where it moved to in 1990).
Broadway hadn't seen a show quite like Les Miz when it landed on Broadway following its smash beginnings at the Royal Shakespeare Theatre and the West End (where it still thrives). At three hours and 15 minutes (it was later trimmed to three), the musical was sung through, covered some 18 years in the history of fictional characters in early 19th-century France. To boot, some people couldn't pronounce the title and others wrongly thought it was about the French Revolution (it was about a later student insurrection). Some wondered if the show would have a long life beyond its advance.
It wasn't long before folks learned to pronounce the title or adopted the nickname Les Miz. The show would come to be regarded by fans as the rare pop opera that got better on repeat viewings rather than revealing itself as something craftless or faddish. Mackintosh has credited the source material as one of the reasons; it was literature before it was stage literature, and Hugo knew how to tell a story.
And not only did the show catch fire in New York, tours still continue it North America to this day.
All this began as a spectacle in Paris written by Alain Boublil and composer Claude-Michel Schoenberg. British producer Cameron Mackintosh (Cats) embraced the work, gathered a British creative team that included lyricist Herbert Kretzmer and co-directors and adaptors Trevor Nunn and John Caird. A smashzilla in England, the Broadway staging in 1987 won Tony Awards for Best Musical, Best Featured Actor (Michael Maguire as Enjolras), Best Featured Actress (Frances Ruffelle as Eponine), Best Director (Trevor Nunn and John Caird), Best Book (Boublil and Schoenberg), Best Score (music by Schoenberg, lyrics by Boublil and Herbert Kretzmer), Best Scenic Design (John Napier), Best Lighting Design (David Hersey). Nominees that year included Colm Wilkinson (as Jean Valjean) and Terrence Mann (as Javert) for Best Actor, Judy Kuhn as Cosette for Featured Actress and Andreane Neofitou (Best Costume Designer). Randy Graff played Fantine in the first Broadway company. She would later snag a Tony for City of Angels in 1990.
Asked in 2002 about his favorite moment in the show, Mackintosh said, "The lovely thing about the show is that it still does get me. I go there thinking I'm only going to watch 15 or 30 minutes and I find myself there an hour later. One of the smaller bits that I always found haunting is at the end of 'Stars,' Gavroche is sitting up on one part of the set, saying 'it's me that runs this town,' and you get this complete silence, and just the creaking of the set and Eponine comes 'round, hunched all alone, thinking of Marius. I've always found that a fantastically simple, poetic image."